After you've completed all work on your digital portfolio for the Sustained Investigation and Selected Works sections, your next step is to formally forward your portfolio to your AP Art and Design teacher (or to the AP coordinator if you're not working with a teacher).
Your teacher will need time to review it and forward it to your school's AP coordinator for final submission to the AP Program. Talk to your teacher and follow their specific deadline(s).
Instructions
Review your portfolio.
View the Review Portfolio page to ensure everything has a status of Complete. If it doesn't, you'll need to go back and update anything that's marked as incomplete.
Enter your AP ID.
On the Review Portfolio page, you'll need to enter your AP ID. If you don't remember your AP ID, you can find it on My AP.
Continue through the acknowledgements pages.
Continue through a series of pages that ask for acknowledgements, confirmations, and permissions. You will:
Answer questions about permission to reproduce your artworks
Confirm that you understand policies about the artistic integrity of your work and about work that makes use of photographs, published images, and/or other artists' work
For 2-D Art and Design and Drawing, acknowledge that you won't be mailing physical artworks this year
Click "Forward Portfolio."
After you have confirmed all the statements on the final page by clicking their checkboxes, click Forward Portfolio.
Make sure you're completely finished working on your portfolio before you forward it. Once you have forwarded your digital portfolio, you won't be able to make changes unless your teacher sends the portfolio back to you.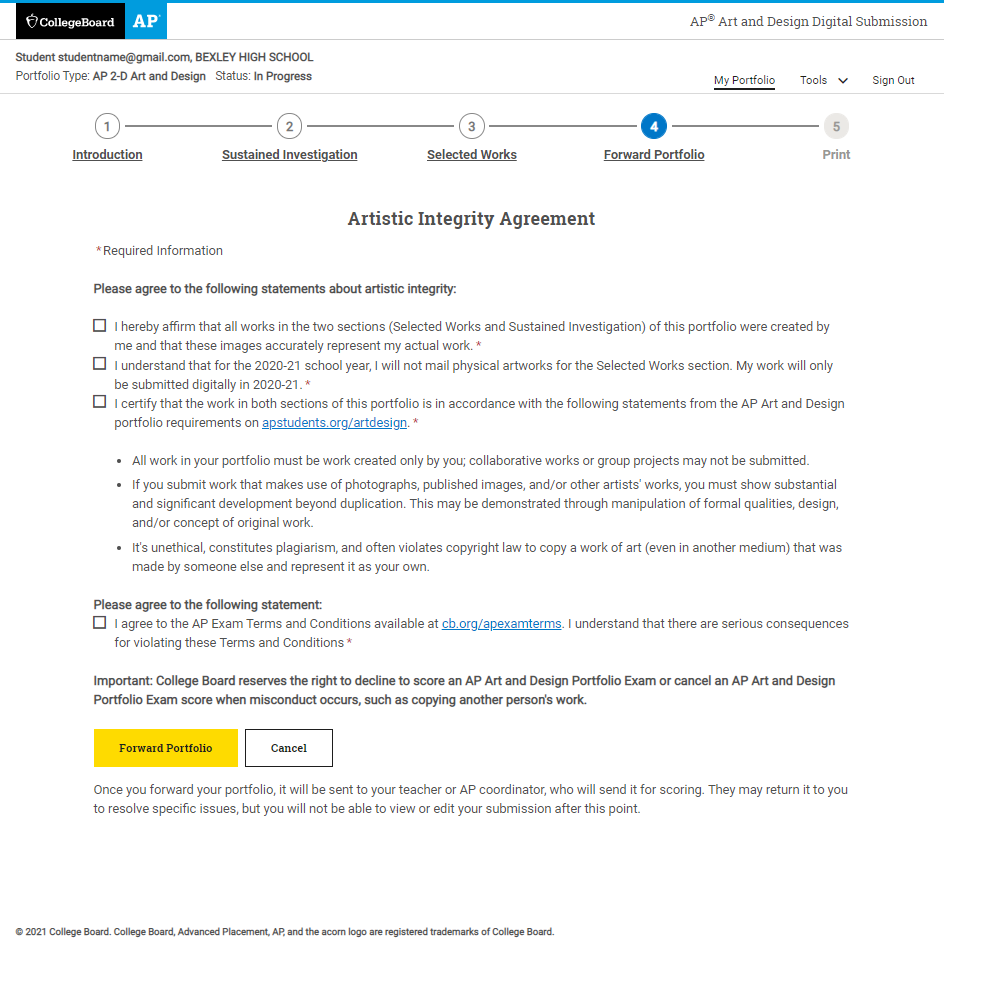 Make sure your portfolio was sent.
Look for the final confirmation screen, which lets you know that your portfolio has been forwarded to your teacher, and check that your portfolio's status now says Forwarded to Teacher.