Select Your Free Score-Send Recipient
Select your free score-send recipient by the June 20 deadline. 
Get the Latest on AP Credit Policies and Score Sends
Learn everything there is to know about AP credit policies and sending your AP scores.
Mark Your Calendar
Your 2023 AP Exam scores will be available starting Wednesday, July 5. Make sure you can access your scores. 
Interested in AP Computer Science Principles?
Hear from students who took the course. 
2022-23 Guidance for Artificial Intelligence Tools
Learn about the AP Program's new rules that prohibit the use of AI tools for AP assessments. 
Stay on Track with AP Daily Videos
AP Daily is a series of short, on-demand videos led by experienced AP teachers that covers all course content and skills. Access all videos for the entire course, starting from day one. Log in to AP Classroom to watch them anytime, from any device with internet access. 
Use Resources in AP Classroom
AP provides digital tools to help you build college-level skills.
Topic Questions
Your teacher can assign these questions that check your understanding to give you immediate feedback on any misunderstandings.
Progress Checks
Get real-time feedback on the topics and skills in each unit as your teacher unlocks progress checks. Use your results to pinpoint misunderstandings and create your own study plan.
My Assignments
Bring it all together on one screen—view and take all your assignments, see what's coming up, and view detailed results with links for further study.
2023

TUE, JUNE 20, 2023, 11:59 P.M. EDT

Deadline to Indicate Your Free Score-Send Recipient

Sign in to My AP to use your one free score send by this date.

AP Score Release

AP scores will be available starting July 5. You'll be able to access them online with your College Board account.
The Benefits of Taking AP Courses & Exams
Stand Out to Colleges
"AP" on your high school transcript shows colleges you're motivated to succeed, and taking the exam demonstrates your commitment to tackle and complete college-level work.
Earn College Credit and Placement
Your AP score could earn you college credits before you even set foot on campus. In fact, most AP students who enroll in four-year colleges start school with some credit.
Boost Your GPA
Most high schools offer a GPA boost to students who take AP—be sure to check with your school for more information.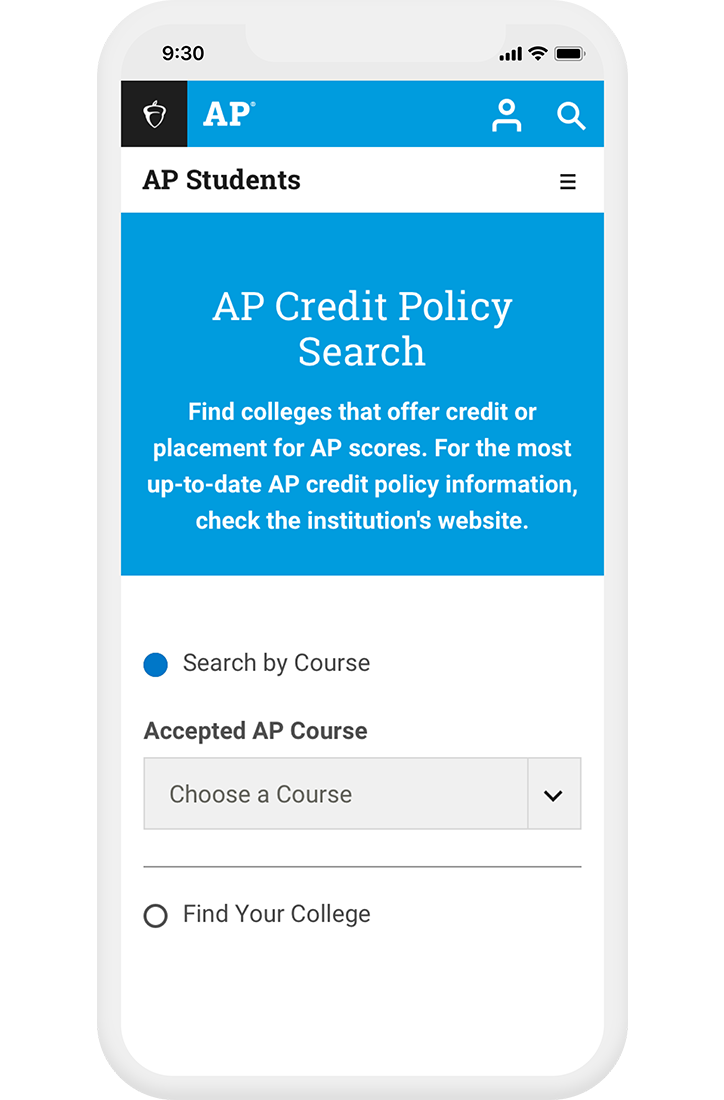 Search AP Credit Policies
Find colleges that grant credit, advanced placement, or both for AP Exam scores.
Explore All AP Courses
Get a head start on college with an AP subject you're interested in. Be sure to check with your counselor to see what's available at your school and how you can enroll.